---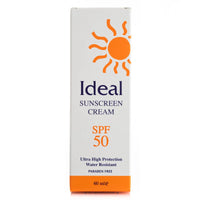 Ultra High protection for the face and body.
Ideal Sunscreen SPF 50 assures an optimal and homogeneous protection against sunburn and protects the skin from the harmful effects of UVA/UVB rays that cause premature skin ageing.
It is a light and silky cream that doesn't leave an oily film on the skin. It is especially suitable for fair skins and intense period of sunlight.