---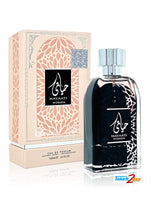 Ard Al Zaafaran Hayaati these fragrance spray is too beautiful to be a real gem, in fact you will want to display them for all to see by wearing it. The fragrance will add a touch of distinction to any living space and are ideal to use at home and office. Whenever you need a quick burst of your favourite perfume there is no better way then Ard Al Zaafaran.
Brand : Ard Al Zaafaran
Fragrance Perfume : Hayaati Women
Fragrance : Bergamot, Mandarin Oranges, Roses, Jasmine, Cassis, Peaches, Sandalwood, Cedar, Patchouli And Musk.
Gender : Women
ML : 100 EDP